We're just over a month away from the launch of the new ACE exam. Here at ESA HQ we are getting near daily inquiries about the exam. The new items have been written and are being input to the testing software now in preparation for the debut of the new test on January 1st. Below you'll find answers to some of the more common questions we're hearing about the new exam and structure. If you have other questions, please direct them to ace@entocert.org.
Q1 - Who came up with the new exam questions?
A committee of subject matter experts (SME) have spent much of the past year editing existing questions, writing new questions, and then editing and editing and editing them until they are fair and representative. The SMEs are all BCEs and come from across the United States so the knowledge pool is not regionally biased.
Q2 - Will the new exam be harder?
That is not the intent. The goal of the new exam (as it was with the old exam) is to make it representative of the subject matter being tested. The average score on the old exam is currently about 74%. Our goal would be to have a similar pass rate on the new exam.
Q3 - Will there be rodent (and other non-arthropod) questions on the new exam?
Yes -- some. Animals can often harbor insects and other arthropods and carry them into the home or other urban structure. As such, to control the arthropods you need to know how to control the non-arthropods. However the main thrust of the exam is entomology and a passing score earns you the title of Associate Certified
Entomologist.
Our SMEs are experts in entomology and while some may also have substantial non-arthropod knowledge, that is not what we are testing or certifying.
Q4 - What should I be studying in order to take and pass the new exam?
A list of suggested study materials remains on the ESA website and is mostly unchanged from what you should have been studying for the old exam (
click here to see the suggested study materials
).
Of the recommended materials, the two books that many students have been finding to be of great help are these two (both of which can be purchased through the link above):
(a) The Handbook of Household and Structural Insect Pests
(b) General Household Pest Control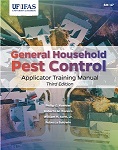 The new exam is just four main topics to study. They are:
(a) Inspection and Identification (45% of the exam)
(b) Monitoring (12% of the exam)
(c) Selection and Implementation of Control Methods (28% of the exam)
(d) Evaluation (15% of the exam)
Q5 - Is there a study guide?
A new study guide is being written now. A publishing date is not yet available.
Q6 - If I'm already an ACE, do I need to take the new exam in order to stay current?
No, but you will be required to watch a free webinar to ensure that all ACEs (existing and new) understand the concepts covered in the content outline. The webinar is being devised now and details will be published as soon as they are available.
The answer to this question changed from how it was originally posted. Current ACEs will not need to watch a webinar. They will, however, be required to review the new content outline and affirm with ESA that they have done so.
See this post
to learn how to do this if you became an ACE before 12.31.2013.
Q7 - Did the fees go up?
No. The structure of the application did change, however. Starting on January 1 all applications have a 3-year lifespan. The application fee is $395 for non-ESA members (ESA members save $40 -- their fee is $355). Once a person takes and passes the exam, however, they are ACE certified until the end of the initial 3-year term. ESA operates on a calendar year basis so some "rounding" will be involved with some initial terms lasting a little longer than 3 years and some lasting a little less than 3 years. Applications accepted in Jan-June will be a little less than 3 years and applications accepted July-December will be a little longer than 3-years in terms of their ACE certification when they pass.
(a) Example #1 - John's application is accepted on 2/1/2014 and he tests and passes his ACE on 9/1/2014. His application lifespan is from 2/1/2014 and he will remain ACE certified until the end of the 3-year term (12/31/2016) which is a few months short of the 3-year period.
(b) Example #2 - Jane's application is accepted on 8/1/2014 and she tests/passes later that month. Her application lifespan is from 8/1/2014 and she will remain ACE certified until 12/31/2017 (since she applied in the second half of the year). Her application lifespan is thus a little longer than 3 years.
Q8 - I still don't get it. Can you tell me more about this new "lifespan" for my application?
You will have up to 3 years to pass your exam once your application is approved. The VAST majority of all ACE applicants pass their exam in FAR less than this amount of time. This change arose because the SMEs felt that the application process should not be indefinite, but that we also did not want to force the process too fast.
The timeline rules are these:
(a) All applicants must take their exam within 1 year of the application's acceptance
(b) If unsuccessful, the applicant must wait at least 3 months but not more than 1 year from their earlier attempt
(c) All applicants must ultimately pass the ACE exam within 3 years of application acceptance or the application will expire
(c1) If your application is accepted in the first half of the year it will expire on December 31st, two years hence
(c2) If your application is accepted in the second half of the year it will expire on December 31st, three years hence